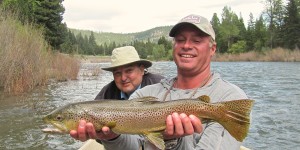 Well last year was interesting to say the least. June was THE Month to be on the water.The 2015 snowpack wasn't very good and warm spring temps sent the runoff down river rather quick. As many of you know, the August conditions were less than desirable due to low water and smokey days. But..we still managed to find some of the biggest fish we have seen in years.
The good news is. This last Dec brought snow pretty much daily. We are way ahed of where we were last year in that dept.Does that mean were not going to have to worry about water levels this year. No way of telling.
Gave up years ago trying to predict that. There is to many factors that dictate that.Mainly what the late spring temps bring. But if your a believer in the El Nemos and the La elmos it looks more than promising that the precipitation will continue. My advice is get behind the vice start tying and think positive!
Till next time
Doug Jones