Well, winter isn't over yet but it's probably a good time to get the gear all tuned up and the flies that were tied in your boxes. Montana's winter started off fairly mild, but high elevation snowpack was above 100%. This Should mean that we will have good flows and low fire danger. Although there are never any guarantees.
Recently Missoula has had some sunshine and warmer afternoons. Probably a good time to get out and try a float this weekend. Highs in the upper 40's which is pretty much shorts weather in Mt. The fish will be in the slower deep stuff for sure. So running your bugs through the likely spots, over and over should be the plan. Patterns to try would be stonefly nymphs, worms, and maybe worms and stonefly nymphs. Fish up rising is a long shot. But keep your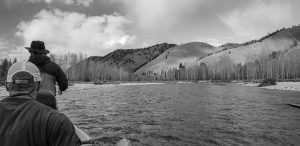 eyes peeled late afternoon.
This time of year the fish may be a little sluggish, but then again so might we.
So its a good time to get out mid-day work on the cast a little and start to daydream about warm wet wading summer days.