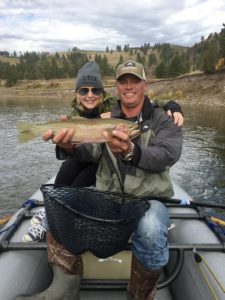 Past week conditions have been a lot wetter and cooler. Some river's have slowed a bit due to water temps (Blackfoot) and some have suffered a little due to clarity (Clark Fork). You can still catch fish but the window and bug activity have diminished some. The Bitterroot seems to be the most consistent of the three. Daily hatches of smaller BWO's (16-18) and Mahoganies (12-14) are the ticket. Much more prevalent in the rain are the bugs. You may find one pod that wants the Blue wing the next wants the Mahogany. So be prepared to switch.
On the clark fork the Blue Wings seem to be the best bet, but…searching with a chubby and a dropper can still be productive. the big dry has a better chance than a bobber (indicator) of catching a fish. And will pick up a couple in that UV pink color. The Clinton down to Blackfoot confluence seems to be pumping some mud still for some reason, so check before you commit to that stuff.
Stay warm out there. Wader and layer.
Doug