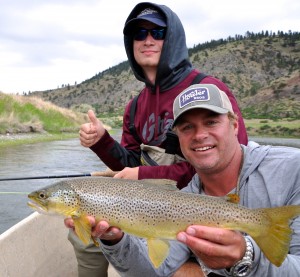 Well all the rivers are dropping fast. Clarity is no longer an issue. Today on the Blackfoot lots of fish eating the big bug and lots of big bugs out. Our flow are still above average everywhere which makes sense because we had an above average snowpack.
Hear is a little tip. When you seeing big Salmon flies, try a golden or maybe a smaller salmon fly if your not getting any risers. Also the dropper they are eating can change daily. Just because there is still a little color to the water doesn't mean they won't eat a little nymph. They will!
Get out and catch some and remember to take care of all your fish. Just because its little doesn't mean it doesn't deserve respect. Thats the big fish you'll catch in a few years.