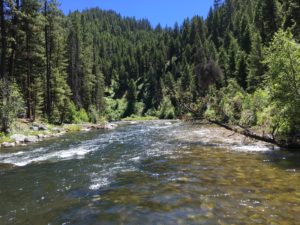 Kinda a mixed bag of news. The flows have been coming down pretty quick but… The weather has cooled in the 70's for a high the whole upcoming week. So at the least it's comfortable again. Rain possible a couple days too.
Last week it had gotten to the point where an early start was really important. If for no other reason than to beat the crowds.
Good numbers of bugs. But the wind hasn't helped them stay on the surface. A few lingering Salmonflies, Goldens, and plenty of Little sallies and caddis. When conditions are good not really any need of droppers.
There is a wacky algae bloom on the Clark Fork, hasn't really broken loose yet but looks to be an issue late summer. Too many phosphates coming from up river.