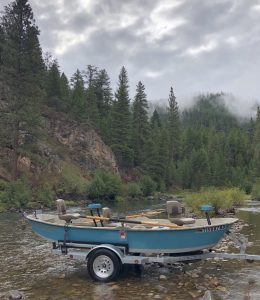 Well, fall has come. Trading the rods for the rifles. Another year has passed. Crazy how they seem to go quicker as each one passes. It was a great season. Once again the typical worry and questions about having enough snow for the rivers to hold up all season long. And once again all those concerns faded away as we found ourselves getting busy.
Was by no means a typical summer though. Early July greeted us with a cool front and rain then back to the hot spell. And just as things were looking omnipotent mid-August, once again we were hit with a cool off that brought rain.
I have guided and outfitted in Montana for 20 years now and can probably only count a handful of times the Blackfoot and Clarkfork blew out and muddied up for more than a couple days and this year it happened 4 times including runoff. This put a bit of a strain on the Root and its Shuttle drivers but in turn, gave the previously mentioned rivers a break. Why this happened isn't known for sure. But a good bet is that the past year's fires created unstable conditions around the Seelly and Bob Marshall areas. Being that a good bit of the color came from the Monture fork.
As we've set the clock back and look at shorter days the attention turns to the holidays, hunting, football, and fly tying. and the rods get a rest. But soon enough spring will come. Seems far now but sure enough the busier we get, the quicker it will come.
I hope everyone had a chance to get out the past few months and make some memories. As that what seems to carry us through the cold winter days. And would also like to thank those who came out to spend time with us on the water. And hope if it's been a while that we see you again soon.
Best wishes.
Doug