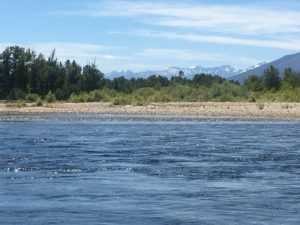 Last weekend brought a pretty significant bump in flows depending on where you were. Monday's levels on the upper root almost doubled, and as it progressed down river it added a little color to the river. Slowed the fishing a little but if you switched to a more visible fly the fish would still eat it. Mid river flows still allow you to bypass some diversions.
Yesterday on the lower Clark Fork it had almost seemed the color had moved down to Tarkio. Hard to tell maybe just a result of algae breaking loose up river, which has now become an issue.
The rain has helped some of our river to the south of Missoula to have their Hoot Owl restrictions lifted. And helped us avoid them for the time being.
PMD's seem to be the predominate day time hatch. With caddis in the evening. Still really effective to run a big attractor with a mayfly nymph. Can you use a worm dropper or a rubber leg? Of course, just haven't found it as productive lately.
Doug Jones