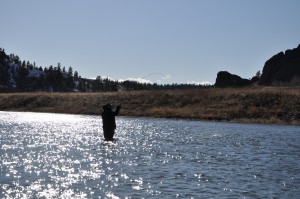 This weekend somewhat symbolizes the kickoff of the summer fishing season. And while all rivers may not be fishable yet, the ones that are will be filled with happy anglers. Both local and visiting anglers will transcend on the state's most popular tail waters.
This is a great time to think about how you float and take others into consideration. Floating yesterday gave me the inspiration to put together this blog, as not everyone seems to have this in mind. Sometimes I think this lack of courtesy is actually misinterpreted as a lack of knowledge and at other times it's just plain rudeness.
Everyone wants to get out there and catch some fish and enjoy the day. Which shouldn't include a race down the river to a special "spot" with another boat. Or cutting in front of someone throughout the day.
The best way to go about a float on the river is to just adopt that life lesson. Do to others as you'd have done to yourself. If you're passing another angler, float at least a hundred yards past before cutting in front. Maybe take a peek up river before cutting over to a bank someone's fishing, both wade fisherman and other boaters. And if you get in one of those flip flop matches, maybe drop the anchor and take a little break. It's just a matter of fact that an increase in the amount of boating is going to cut down the number of good "spots" and the need for everyone to work together.
While you're out there this weekend throw out a couple extra smiles along with your flies. Its amazing what they can catch!
Till Next Time
Doug Jones
Clear Creek Outfitters