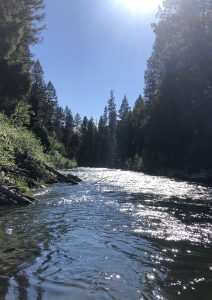 Well, it looked like we had a chance of water issues in June. The snow melted quick. But Just after that we get a cool summer with a good bit of rain. I don't ever remember a July with temps in the 70's and almost a daily shower or two. So. Thing are going pretty good. Flows are normal and temps are pleasant to say the least. The storms last weekend still have the Blackfoot a little out of wack clarity wise. Not bad but, but not what it usually looks like. Clark Fork kinda bounces around. But has some algae issues somedays. Bitterroot is good. but suffers a bit more with crowd issues.
The hatches have been outstanding. PMD's and yellow sallies rule the rivers. But some days pretty solid caddis and lime trudes are prevalent. For the PMD's a Purple haze usually gets it done. But sometimes it takes a PMD spinner or stillborn. Yellow sallies can be a little more tricky to figure the pattern so switch it up.
When the clarity is an issue the go to is always a pink San Juan. Mid-summer now so start to think about hoppers if you haven't already. and the warm temps on tap are sure to bring the sprue moth out this week.