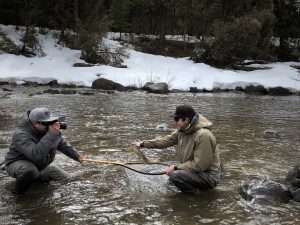 Snow is still high on the banks. Most put in and take outs are covered. And the water temps are cold. I know it sounds negative. But the truth is best. We're still in a Winter condition stage. But the future looks good. Getting out on the weekdays is a good bet. If i'ts sunny on the weekend. There will be 10 boats on every stretch. I get it cabin fever. We all have it. So nymphing with stoneflies and worms are your best bet. Plenty of the nymphs showing up stream side on the rocks. So far its been the Nemoura's and Capnia's showing up as adults.
Word has it that the floats from Wally to New Bridge may not be an option until this weekend, due to slush and ice bars.
Things will ramp up soon enough. All this snow pack is a good problem. With a little luck it'll come off steady. And like last year we'll have great flows all season.
Doug Jones
Clear Creek Outfitters